"My Hero Academia Exhibition DRAWING SMASH," the first original art exhibition of Kohei Horikoshi's manga "My Hero Academia," will be held at the Mori Arts Center Gallery (Tokyo) from April 23. Prior to the opening of the exhibition, a media preview was held on the 22nd, and the exhibition was unveiled with autograph manuscripts, color illustrations drawn by Mr. Horikoshi for the exhibition, and a statue of All Might that appears in the play.
Check the Website!! (https://heroaca-ex.com/)
In addition to about 300 original drawings and 11 newly drawn illustrations, the exhibition also features a three-dimensional display and a video display to express the world view of the work. BONES, the company that produces the anime series, will also be exhibiting the original drawings and storyboards. The venue will feature "Chapter 1: Plus Ultra! -Run up to the Hero! -and "Chapter 2: Days of U.A.H.S. – Days in Academia -", which recreates class scenes and other scenes in a diorama of a school building at UA High School
 In the "Chapter 3: HEROES vs VILLAINS – Clash of Fate" area, which represents the hiding place of the enemies, a statue of All Might built at Ground Zero in Kamino Ward in the movie will appear. Chapter 4: The Super Bout! -In the area of "Chapter 4: The Super Bout!
 In the area of "Chapter 5: From the Origin, To the Future – Save the Mirai, Destroy the Mirai", there will be an exhibition focusing on the famous words of the characters, 10 illustrations drawn by Horikoshi for the exhibition, and a card with a message for the visitors. There will also be a display focusing on Deku and Tomura Shigaraki, and a display of large prints of digital illustrations created by Mr. Horikoshi, expressing the future of "My Hero Academia".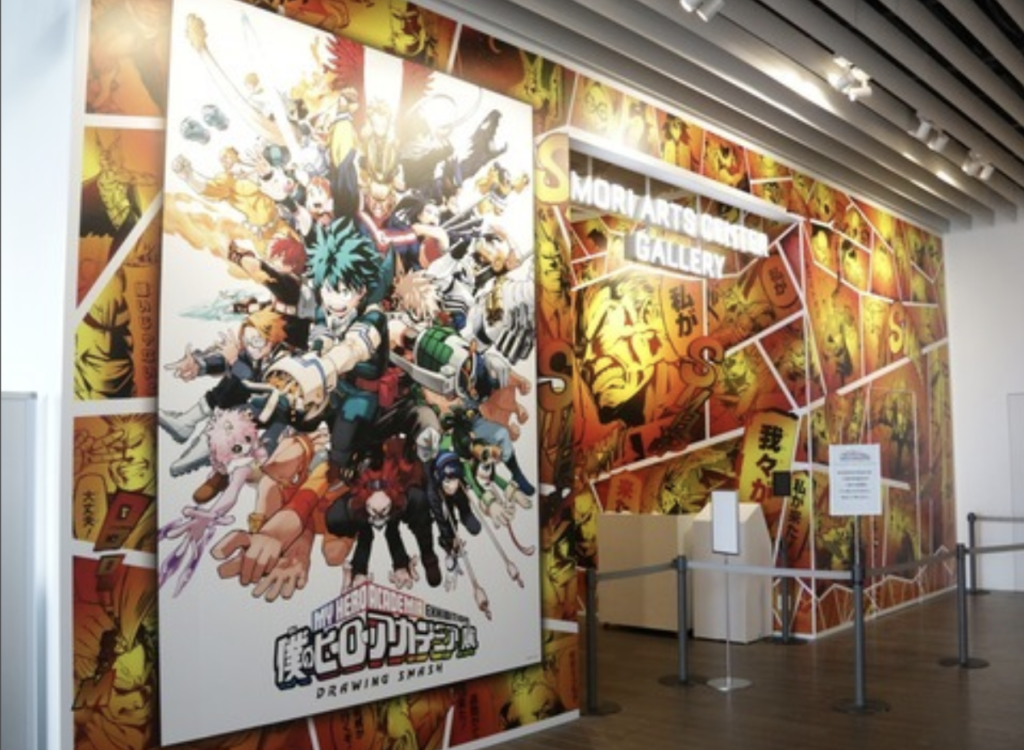 A collaboration cafe, "Drawing Smash Cafe," will be set up at the venue. The cafe will offer collaboration menu items such as "Midoriya Izuku's Cutlet Rice" (1,450 yen), "Bakugo Katsuki's Howitzer Impact Curry" (1,500 yen), and "Todoroki Shoto's Half Cold, Half Burning Shaved Ice" (1,380 yen).