On the 20th, the midterm results of the ranking of "The 1st Global ONE PIECE Character Popularity Poll" for the whole world of the popular manga "ONE PIECE" was announced on the first broadcast of the online special program "ONE PIECE TIMES" on the official YouTube channel. The Straw Hat Pirates ranked in the top three with "Luffy" in first place, "Zoro" in second place, and "Sanji" in third place. In the program, the rankings up to 100th such as 4th place "Trafalgar Law", 5th place "Ace" … are released. (* Aggregate of up to January 31) (The Links to the YOUTUBE channel below!)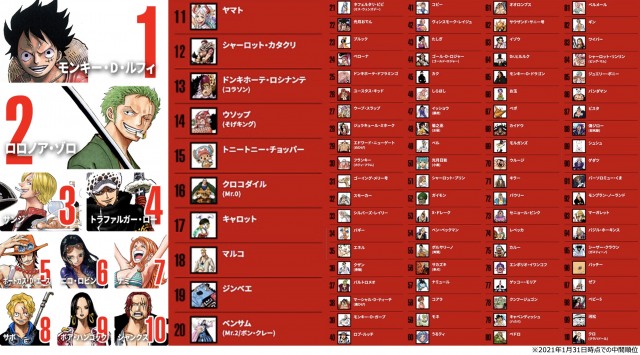 This voting project was held in commemoration of the publication of ONE PIECE's 1000th chapter in the magazine "Weekly Shonen Jump" released on January 4th. In addition to deciding the "best" for fans among the more than 1,000 characters, the project also allows fans to realize the differences and diversity of preferences in each region by comparing the results of the world's Top 100.
In this program, the popular vote data and posts gathered from all over the world are analyzed, and the "ONE PIECE" information is examined together with overseas fans. In the first episode, Japanese comedians 'Kamaitachi', who are big fans of the series, were the MCs, and Greg Warner, an opinionated man known as a "ONE PIECE" fanatic, was the guest, and fans from five different countries, the U.S., Russia, Germany, Turkey, and Indonesia.Unique fans also appeared online, and the forecast of the middle ranking and the announcement of the TOP 100 were made.
Anyone can vote once a day on the special website, and the voting period is 2021.1.4 – 2021.2.28 (Japan Standard Time).
【Official Website】 Check the official website to see how you can vote!
https://onepiecewt100.com/en/vote
Special Website "ONE PIECE 1000 LOGS" (Japanese only)
https://onepiece-1000logs.com/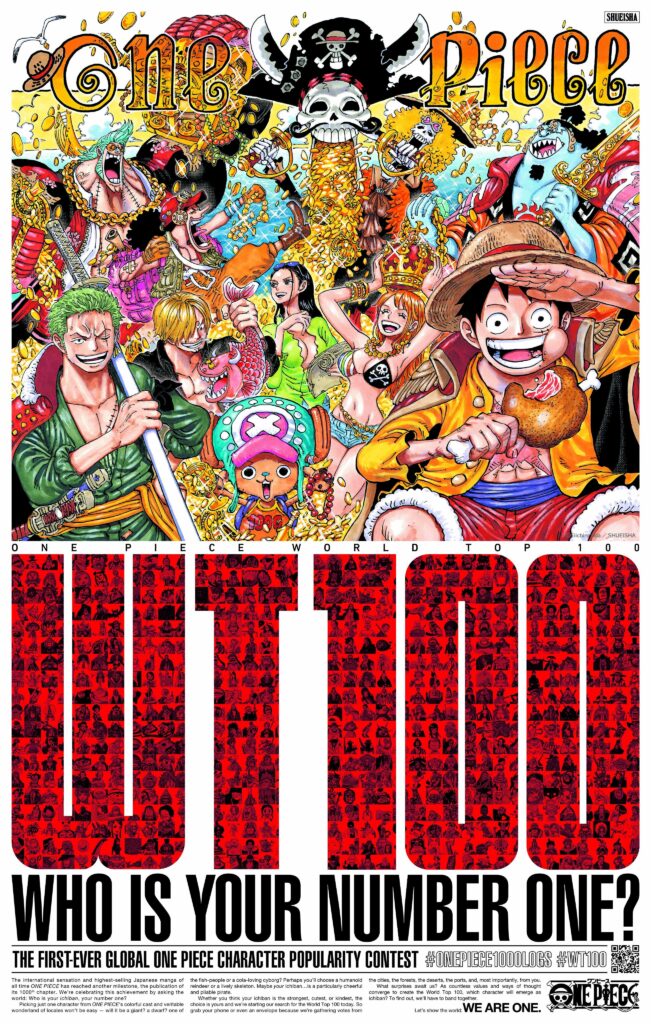 The Mid-Term Results on the YOUTUBE (Japanese)
ONE PIECE TIMES 〜WT100世界人気投票!中間結果速報〜 (https://www.youtube.com/watch?v=a8sa6-hpD-Y)